The event took place in Sweden, in September 27 and 28, 1968, with Linköping as the central point. The actual competion area was situated about 40 kilometers south of the city.
Organization
In 1965 the International Orienteering Federation commissioned Svenska orienteringsförbundet [The Swedish Orienteering Federation] to organize the event. An Organizing Committee was set up with five sub-committees. Most of the actual work was entrusted to IFK Linköping and Linköpings OK, the two largest O-clubs of Linköping. At most about 420 officials were in action.
Publications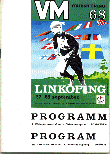 Four bulletins, a program book, result books and final report were published. A special cover was used for these and for a picture postcard. The text of the bulletins and the final report is in German and the text of the program book and of the result books is in Swedish and German. The reason for having all official information in German is that the official language of the IOF in 1968 was German. Consequently are some texts on these pages in German.
Participants, leaders, observers
There were participants from 13 countries. Four other countries sent observers.
Terrain, maps and courses
The following description of the terrain and maps is quoted from the program book: